The first clue to your home's character…
The Origin Front Door is a precision-driven, expertly engineered object of beauty. From single front doors and French doors that can be used in a home or garage space, through to grand entranceways with side flags and transom windows, our range of front doors enables you to create a personal statement with ease; because first impressions matter.
Bespoke to you…
Each home has its own unique character, and your front door is a big part of that. Our front doors are made bespoke to your needs, so you can ensure it's making the right statement for your home:
Pick a panel or mid-rail option

Specify your size

Pick a colour on the frame, sash and panel

Select your handle & colour

Choose your knocker and letterbox

Pick your threshold
Our range of panels…
If you opt for a panel, there's an array of options available that are guaranteed to give your home's entranceway an injection of character. With 10 gorgeous panels to choose from, you're bound to find your ideal fit. From panels that incorporate lots of glass to flood your hallway with natural light, classic styles that never go out of fashion, through to ultra-modern aluminium panels – there's a style to suit every taste.
Key:
Letterplate available

Knocker available
Kensington

SE 04

Kensington

SE 07

Kensington

TR 02

Kensington

CO 01

Kensington

GE 01

Sandringham

CO 04

Sandringham

SA 02

Sandringham

SA 03

Sandringham

SE 01

Sandringham

CO 05
Featuring a mix of traditional and modern panels, the Kensington range is available on a one week lead time in our six most popular colours. Colours outside of this and the Sandringham range of panels are available in five weeks.
Opt for a glass solution…
Alternatively, you can also specify a glazed door with clear or frosted glass. In addition, you can also opt for a door with a mid‑rail. The elegantly executed horizontally fixed bar can be positioned anywhere on the door to suit your taste, whether that's a 50:50 split or 60:40 split, the choice is yours. Popular in porches and as a back door, the mid‑rail separates out sections in the door and can accommodate glass on both the top and bottom, or a panel can be used in the lower section for additional privacy.
Accessories that compliment…
A beautiful door deserves beautiful furnishings – and our range of pulls and handles provide a classy finishing touch to your bespoke Origin Front Door
Premium Stainless Steel handles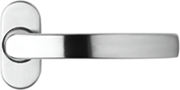 Solid stainless steel lever handle with separate escutcheon

(Style 253/280)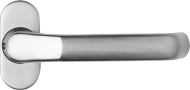 Solid stainless steel lever handle with separate escutcheon

(Style 251/280)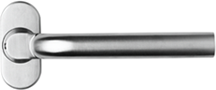 Solid stainless steel lever handle with separate escutcheon

(Style 301/280)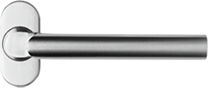 Solid stainless steel lever handle with separate escutcheon

(Style 303/280)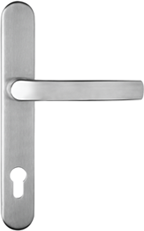 Solid stainless steel lever handle with long back plate

(Style 253/270)
Bar handles
Stainless steel
Bow bar

550mm or 720mm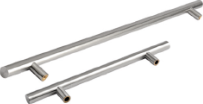 Hafi straight bar

500mm, 1200mm or 1800mm

Hafi off set bar

500mm, 1200mm
Aluminium offset handles
Our offset aluminium range is available in four colours that complement or contrast your front door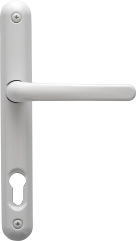 White offset lever handle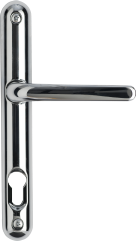 Chrome offset lever handle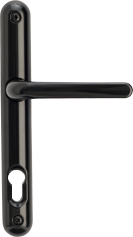 Black offset lever handle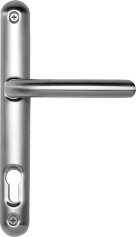 Stainless Steel offset lever handle
Accessories
Cylinder pull
Stainless steel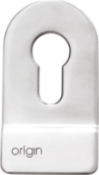 A cylinder pull can also be specified. Its stylish design sits round the barrel and is used to aid with opening or closing the door.
Door knocker
Stainless steel

Letterbox
Stainless steel

Threshold Options…
We offer three different threshold options with unique characteristics to suit your home needs.
Firstly, our expertly engineered weathered threshold ensures your home stays watertight and protected from adverse weather conditions.
Alternatively, the non-weathered options offer a level floor-finish, allowing for a smooth transition between the inside and out. Two options are available – the standard non-weathered option, or the mobility threshold, which stands at a mere 20mm when the door is open, making it ideal for wheelchair use.
These thresholds are more recommended for internal usage, making them ideal for flats, doors enclosed inside a front porch, or doors that aren't fully exposed to the weather.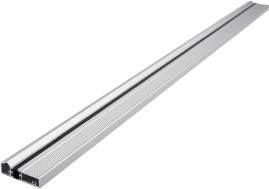 Explore the specification of the Origin Front Door…
Front doors
System
Panel Style Options
Maximum Height
Maximum Width
Popular Colours

7015M, 7016M, 7021M, 9005M, 9007M, 9910G, 9910M

Dual Colour Option
Panel Depth
Lead Times

Lead times displayed may change without prior notice and will depend on installation availability.

Popular Colours and Kensington Range Panels - 1 week
Special RAL Colours and Sandringham Range Panels - 5 Weeks

U-Value

Up to 1.8W/m2K

Security

5 point automatic locking system or our unique 8-point locking system with 3-Star diamond cylinder

Secured By Design
Guarantee

Standard - Up to 20 years
Marine Environment - 10 years (frame) & 5 years (hardware)
Garage Door…
For complete front of house unity and creating a seamless look, our front door range can be used as garage doors. Find out more
Here at Origin, our vision is to transform the way families enjoy their home - from inside to out…
Find out about our

Door Types

An Origin Door is a completely bespoke product, tailored to your size, colour scheme, finish and accessory requirements. Origin are proud to present our range of Bi-fold, Sliding, Corner, Single, French, Front and Garage Doors.