Introducing the OS-20
The Origin

Artisan Sliding Door
Minimal and sleek in design, the Artisan Slider OS-20 has ultra-slim sightlines of just 20mm and, being made from premium grade aluminium, it's a combination that means less frame and more natural light, and makes for a truly breath-taking spectacle.
Bespoke to you…
No home is the same, each having its own unique character. Why should your doors be any different? Our sliding doors are made bespoke to suit your needs.
System type

Overall size

Configuration

Colour

Handle style and colour
The Artisan Slider In Detail…
The Artisan Slider OS-20 is unique in its design and manufacturing process, which ultimately decides the panel sizes it can accommodate, and the slim sightlines it achieves. Explore in more detail below.
OS-20
Interlocker Sightline

Size denotes glass to glass measurements

OS-20

Sizes - Height

(overall size)

OS-20

Min. 1600mm

-

Max. 3000mm

Sizes - Width

(overall size)

OS-20

Min. 1228mm

-

Max. 13196mm

Popular Colours

OS-20

Lead Times

Lead times displayed may change without prior notice and will depend on installation availability.

OS-20

Any RAL Colour – 4‑Weeks
Anodised Silver - 6‑Weeks

Glazing Options

OS-20

Wet glazing (glass units are bonded to the frame using structural sealant)

U-Value

OS-20

1.4W/m2K

Guarantee

OS-20

Standard - Up to 10‑years frames and hardware, 5‑years on glass
A bonded system…
The Artisan Slider OS-20 comes as a bonded system – sometimes referred to as a wet glazed system – which means the glass and frame comes as one unit. The benefits to this are that the doors have improved weather tightness and slimmer sightlines are achieved.
We have teamed up with internationally celebrated glass suppliers who share our dedication to making technologically advanced glass solutions, so that together, we can create a sliding door that's incredibly secure, thermally efficient and aesthetically stunning.
A size to suit your needs…
Each individual panel can be up 2.2m wide and 3m tall (or 6m2 overall) with a maximum overall width of over 13m – the OS-20 is minimalistic and yet has the potential to give your home an entire wall of glass.
A sense of security…
An incredibly secure system offering a minimum of six points of locking to either the jamb or adjacent door, there's only a handle on the inside of the OS-20 Artisan Slider, so there's no lock on the outside for would-be intruders to pick. The aluminium frame and e-toughened glass – which is tough to break as well as thermally efficient – makes it easier to open up your world, your way, with complete peace of mind.
9910G
Hipca White
7015M
Slate Grey
7016M
Anthracite Grey
9005M
Jet Black
Light Silver
Open your way…
Offering an elegant and seamless finish, every Origin Artisan Slider is fitted with a streamlined handle. Available in five attractive colours, its architecturally striking and aesthetically pleasing design blends effortlessly into the frame while remaining hard-wearing and practical.
Popular configurations…
Explore available configurations for the OS-20 Sliding Door
Key:
O - indicates fixed sash
X - Indicates opening sash
Indicates opening direction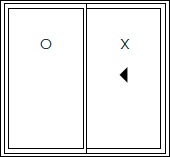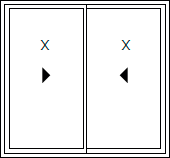 OX (1 fixed, 1 sliding) or XX (2 sliding)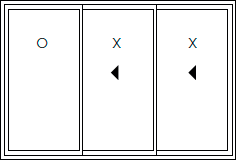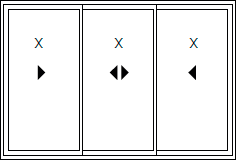 OXX (1 fixed, 2 sliding) or XXX (3 sliding)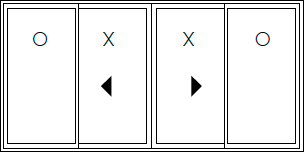 OXXO (2 fixed, 2 sliding) or XXXX (4 sliding)


OXXXXO (2 fixed, 4 sliding) or XXXX (6 sliding)
Here at Origin, our vision is to transform the way families enjoy their home - from inside to out…
Find out about our

Door Types

An Origin Door is a completely bespoke product, tailored to your size, colour scheme, finish and accessory requirements. Origin are proud to present our range of Bi-fold, Sliding, Corner, Single, French, Front and Garage Doors.