They are a high quality British product and thermally broken, which is good for environmental performance.

- Dave James | Civic Architects Ltd
Origin have recently been involved in an exciting project in East London to fit out the Rainham ROYALS Youth Centre by supplying our aluminium windows, helping maximise the use of space in the roof of the building. The existing building was built 15 years ago as a space for young people in the area to take part in a range of activities and learning, from dance classes and wrestling to computer work and careers advice.
Since being built, the Youth Centre has become an important hub for youngsters within the local area but the Centre itself was in need of a renovation to make the best use of the space available. Project architects, Civic Architects Ltd, asked Origin to provide aluminium windows to transform the Youth Centre roof into a light and bright space. The space now incorporates a mix of formal and informal areas, ranging from fixed workstations and hot desks to sofas and chairs, allowing for a mixture of learning and social settings.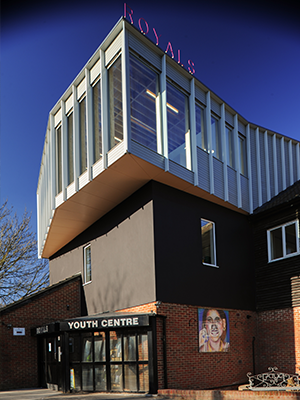 The extension itself is clad in deep timber fins to provide solar shading, while the green-grey colour of the wood reflects the colour of the concrete square below. When Dan Jones, from Civic Architects Ltd, originally spoke to the children, they really liked the idea of seeing and being seen. The Origin Window was the perfect match for this project as its slim aluminium profile can create unmatched views and the modern look is mixed perfectly with the rest of the project.

The Origin Window will create an abundance of light through the glazed corner display and gives the young people who use the space a fantastic view and sense of space, while people outside can see the activities taking place in the building. The space created feels almost like a treehouse and this is echoed by the choice of materials and use of light.
Dave James chose Origin Windows for this project due to their quality and British manufacturing. He said, "They are a high quality British product and thermally broken, which is good for environmental performance."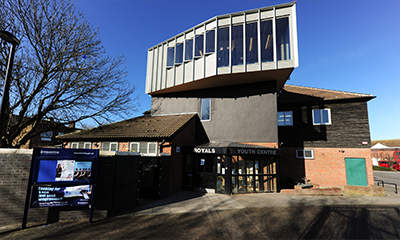 The sixteen aluminium flush casement windows were finished in RAL 7030 coloured powder coating. The powder coating on Origin's windows is extremely hardwearing and is guaranteed to perform for 20 years.
Rainham ROYALS was completed January 2015 by G&S Hutchinsons and after such fantastic results, Civic Architects have already gone on to specify Origin products on another project, Gamlingay ECO Hub Community Centre which is the first community centre in the country to incorporate three different passive technologies without fossil fuel backup.
Since completion, ROYALS has been nominated for two awards, The Wood Awards and The Civic Trust Award.

Civic Architects Ltd www.civic.org.uk