Summary:Welcome the warmer weather by sprucing up your home for spring with these top tips!
Learn how to get those classic "smear free" windows
Inject colour into your living room with our handy tips
Give your house the ultimate Spring clean
The clocks have gone forward and the light, bright evenings are finally upon us. But, before we start dusting off the deckchairs, realistically, we are most likely to witness those first few weeks of the British summertime through the window.
Unfortunately, those first brilliant rays of sunshine only highlight the fact that, after the long gloomy winter, our window panes are left looking far from their best. With dust particles paragliding through every sunbeam, we do have to face facts that it's not called the Big Spring Clean for nothing!
It's all spick and span!
Back in the day, house proud homeowners would treat spring cleaning as a major project. They would tackle every single 'nook and cranny', dusting and scrubbing like there was no tomorrow. As many of us simply don't have the time (or quite frankly, the inclination) to turn out every drawer and cupboard, there is no option to cut corners. But no matter how duster shy we may be, we all carry at least one tried and tested handy household tip that has been passed down from generation to generation
Bring in the sunshine
Everyone seems to have their own special tricks for keeping their windows shiny and smear free. One super-tip from the professionals is to avoid washing windows in direct sunlight because as the sun heats up the glass, it causes all sorts of streaking problems. Freshly cleaned Bi-fold doors can make an incredible difference to your living space, letting in more light and, quite literally, opening up the room. Once the panes have been given the spring clean, Bi-fold doors become like an invisible wall, bringing the outside in and letting the sunlight flood through.
Spruce up for spring
Beautiful doors demand a beautiful living space, and a great way to give your living room a facelift is to rotate your soft furnishing and accessories according to the seasons. Cushions and throws don't have to be a year long commitment, especially as there is an abundance of reasonably priced pieces on the high street. Whilst the winter is all about cosy throws and tactile cushions, lighter fabrics and brighter colours can really freshen up the room for the warmer months. Lampshades can also be easily replaced to inject colour into a room, as can carefully placed bright vases or crockery. The same goes for flowers; at this time of year, daffodils are a great low cost option, and are the perfect way to cheer up a shady corner.
Now the inside of your house is so fresh and inviting, there's no need to step outside, so just sit back on your fresh new cushions and admire the view through your lovely clean windows!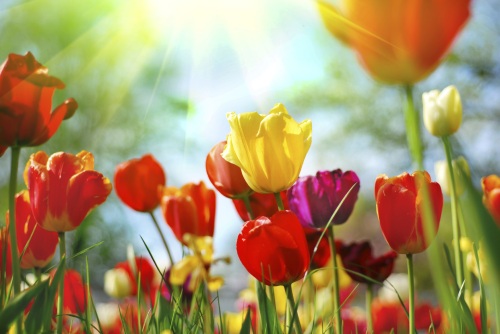 Relevant Resources