Outdoor Living – Around the Clock
Summary:Keep warm in your garden and enjoy the outdoors for longer with our guide to outdoor heating.
Firepits give you a cosy, year round warmth
Avoid manufactured, environmentally disasterous heaters
There is more to burn than just wood
Britons Outdoors
We are all aware that when we see a glimpse of sunshine in the UK, no matter what time of year, we need to the most of it!
The very second the temperature gauge starts creeping up, many of us rush out to set up camp in our gardens, drinking in the elusive hours of sunshine that this country grants us. In these precious few weeks, our outside space serves as an extra room, furnished not only with dining tables and chairs, but sofas, recliners and fairy lights. We eat, drink, cook, entertain and chill out there, adopting a Mediterranean lifestyle that has us staying up late. If you have Bi-folding doors fitted in your home, then this lifestyle is all the easier to achieve. By simply sliding back the doors, you can instantly create the sensation of a huge living space.
Unfortunately, as soon as we get used to this outdoor lifestyle, the weather inevitably breaks and we huddle under our sweaters, cursing the lower temperatures. So, how can we prolong the time we get to spend in our 'extra room', once the sun has gone down, without having to close our sliding doors.
Snuggle up
Firepits
Firepits and braziers are a great way to create extra heat and the pure nature of them encourages people to gather round. Whether you are toasting marshmallows or just watching the flames flickering into the night sky, a fire pit makes a great addition to your garden. Due to their recent rise in popularity, there are numerous portable models for sale on the high street. They come in all sorts of shapes and sizes (and prices!), and the benefit is that you can move the majority of them around, according to where you want to sit, and of course, you can store them away when not in use. A more permanent, sturdier option would be to actually build a firepit into your garden from scratch. This option provides a great focal point for your garden, without the danger of it being knocked over.
Chimenea
Chimineas essentially do the same job as a fire pit, whilst keeping the fire more contained. They are great for warming a chilly spot, but not quite as social as a fire pit, as the fire is only visible on one side. Chimineas are best suited to smaller terraces, where they can be placed in a corner as a feature.
Let it burn
The majority of people burn wood in their fire pits, but there are some lower maintenance options that can be very effective. In the more stylised fire pits, some people opt for fire glass, which can give a stunning effect without compromising on heat. Fire glass provides less of a roaring fire, so the more 'outdoorsy' amongst us may not like the less 'rugged' feel of the more designer flame.
Keep it natural
Whilst they seemed to be a great idea when they were first introduced outside restaurants and bars, the popularity of gas fuelled patio heaters took a nose-dive once the environmental implications were revealed. Just one patio heater can produce four tons of carbon dioxide annually and to neutralise this CO² usage, you'd have to plant 3.3 acres of forest! Therefore, the smart, not to mention cosy, option is to stick to the tried and tested natural flame.
So, gather round and pass the marshmallows, just because the sun has gone in, you don't have to!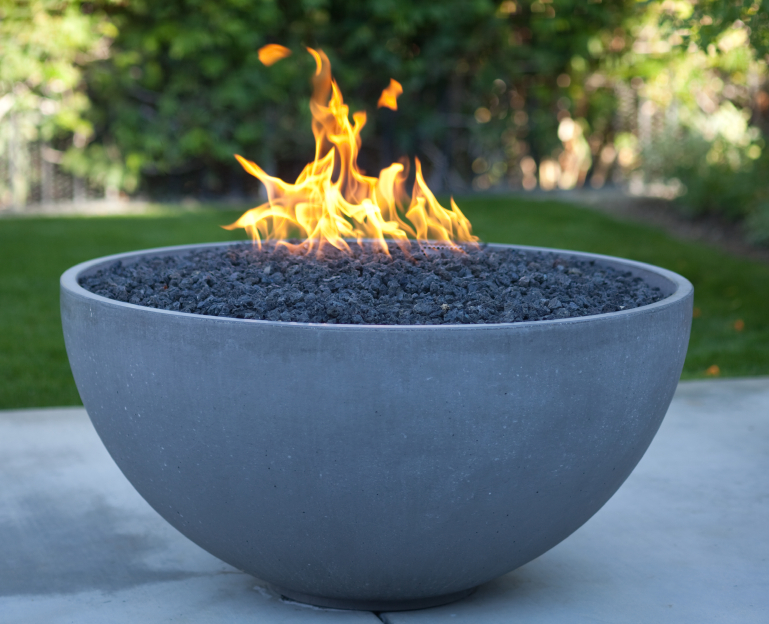 Relevant Resources