Glamour: The Key Looks of this Season's Hottest Interiors Trend
Summary:Glamour is a major interiors trend in 2014 so add a little luxury to your home with this accessories.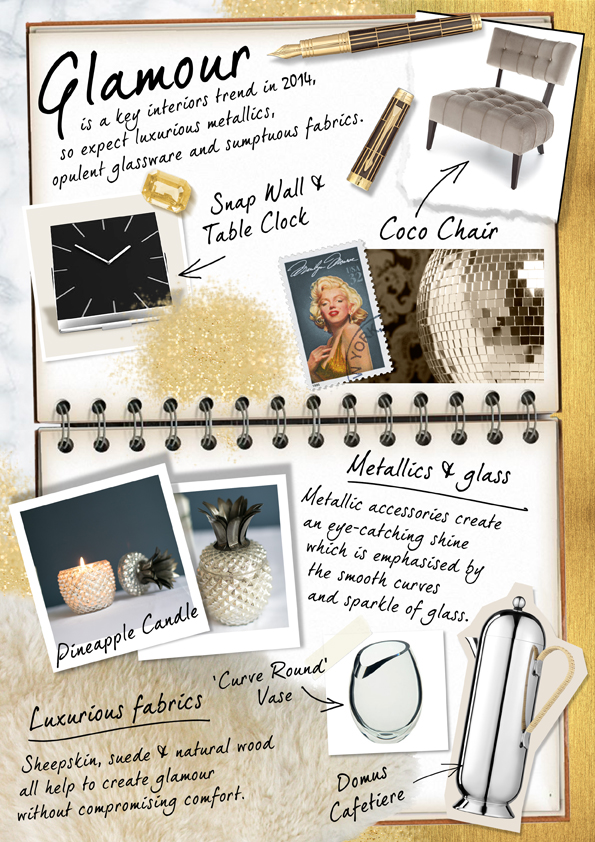 Coco Chair
Anything with the name 'Coco' is bound to bring glamour into the home, and this beautiful chair is no exception. This luxurious chair from The Sofa & Chair Company features gorgeous padding with an intricate piped and buttoned seat… Glamour through and through! Prices start from £1,265.
Pineapple Candle
A nod to vintage glamour, this pretty pineapple candle would make a lovely centre piece for a coffee table, whilst the metallic finish is right on trend. Available to buy online from Rose and Grey for £26.50.
Domus Cafetiere
Contrasting textures is a key theme for creating a glamorous look, so the stainless steel body and natural wicker handle of this beautiful cafetiere matches the brief perfectly. Domus cafetiere by Nick Munro is available from Aram Store for £85.
Curve Round Vase
The smooth curves of this vase bring a real contrast to the straight lines associated with the glamour look. Handmade in Devon, this vase is available from Kings and Queens for £68.
Snap Wall & Table Clock
This striking clock by designers Diamantini & Domeniconi has huge vintage appeal. Inspired by old train station wall clocks, this clock wouldn't look out of place in a film noir set. The Snap Wall & Table Clock is available from Milk Concept Boutique for £170.
Sheepskin Rug
This super soft sheepskin rug by SnugRugs is huge, and will fill the floor space in front of your fire or your bi-fold doors to add a luxurious touch to the room. This classic ivory rug is £199.
If you're looking to create a glamorous look in your home by adding bi-fold doors, check out the colour schemes in our Heritage and Naturalist Colour Palette ranges.